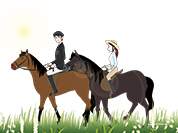 Our June 2022 desktop background features the series Daddy Longlegs (Level 6, 32 Chapters). Adapted from the novel by Jean Webster, Daddy Longlegs is a story about an orphan named Judy. A talented writer, Judy gets the chance to go to college when a mysterious benefactor offers to pay for it. All Judy has to do is write him letters. Will she ever find out Daddy Longlegs' secret identity? Be sure to check out the series and apply the new background as your desktop wallpaper today!
To apply a Little Fox desktop background:
1. Download the image.
2. Right click on the saved image and select Set as desktop background.
[View Little Fox Desktop Backgrounds]
※ Little Fox desktop backgrounds are only available on PC.