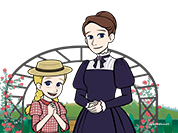 Our December 2022 desktop background features the series Pollyanna (Level 6, 32 Chapters). Pollyanna has to go live with her stern aunt Polly after her father dies. Aunt Polly has little interest in raising a child, but Pollyanna's sunny disposition slowly begins to brighten Aunt Polly's life and show others how to stay cheerful even during hard times. Be sure to check out the series and apply the new background as your desktop wallpaper today!

To apply a Little Fox desktop background:
1. Download the image.
2. Right click on the saved image and select Set as desktop background.
[View Little Fox Desktop Backgrounds]
※ Little Fox desktop backgrounds are only available on PC.