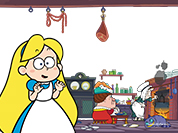 Our May 2022 desktop background features the series Alice's Adventures in Wonderland (Level 5, 24 Episodes). When Alice tumbles down a rabbit hole, she winds up in a fantastical new world. Exploring Wonderland, she meets many unusual creatures. But will Alice ever find her way back home? Be sure to check out the series and apply the new background as your desktop wallpaper today!
To apply a Little Fox desktop background:
1. Download the image.
2. Right click on the saved image and select Set as desktop background.
[View Little Fox Desktop Backgrounds]
※ Little Fox desktop backgrounds are only available on PC.