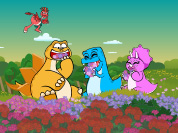 Our April 2021 desktop background features Dino Buddies (Level 1, 72 Episodes). Rex is a friendly T-rex who visits the park to make new friends. He meets slow but strong Sid, sweet and kind Sara, and playful Tor who has a mysterious bag. Even though they are very different, these four dinosaurs are great friends in this Little Fox original series. Be sure to check out the series and apply the new background as your desktop wallpaper today!
To apply a Little Fox desktop background:
1. Download the image.
2. Right click on the saved image and select Set as desktop background.
[View Little Fox Desktop Backgrounds]
※ Little Fox desktop backgrounds are only available on PC.