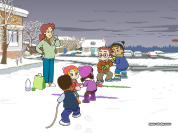 Our January 2021 desktop background/calendar features the Little Fox original series Fun at Kids Central (Level 4). Are you ready for after-school fun and games? Miss Shelly always has fun things for the kids to do at Kids Central. Follow their after-school activities as they make crafts, play games, cook, and more! Be sure to check out the series and apply our Fun at Kids Central background as your desktop wallpaper today!
To apply a Little Fox desktop background:
1. Download the image.
2. Right click on the saved image and select Set as desktop background.
[View Little Fox Desktop Backgrounds]
※ Little Fox desktop backgrounds are only available on PC.
※ A new calendar becomes available on the first of the month. Calendars are only available for the current year. Previous years' calendars are not available.