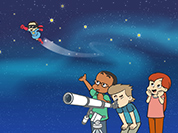 Our November 2020 desktop background/calendar features the Little Fox original series Rocket Girl. Roxy seems like a regular eight-year-old girl. But when aliens invade or an evil villain robs a bank, Roxy becomes Rocket Girl—Metro City's number one superhero and the star of our popular series. Be sure to check out this action-packed series and apply our Rocket Girl background as your desktop wallpaper today!
To apply a Little Fox desktop background:
1. Download the image.
2. Right click on the saved image and select Set as desktop background.
[View Little Fox Desktop Backgrounds]
※ Little Fox desktop backgrounds are only available on PC.