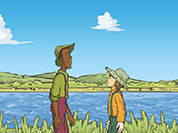 Our September 2020 desktop background features The Adventures of Huckleberry Finn (Level 7, 25 Chapters). Based on the classic novel by American writer Mark Twain, this series follows Huckleberry Finn and the escaped slave Jim as they travel the Mississippi River. Be sure to check out the series and apply the new background as your desktop wallpaper today!
To apply a Little Fox desktop background:
1. Download the image.
2. Right click on the saved image and select Set as desktop background.
[View Little Fox Desktop Backgrounds]
※ Little Fox desktop backgrounds are only available on PC.