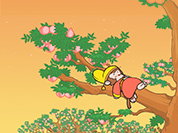 Our June 2020 desktop background features Journey to the West (Level 5, 108 Episodes), adapted from the classic Chinese novel by Wu Cheng'en. When the Tang Monk heads west to get the True Scriptures, Sun Wukong must protect him. Will Sun Wukong, the wild and reckless Monkey King, make a safe journey? Be sure to check out the series and apply the new background as your desktop wallpaper today!
To apply a Little Fox desktop background:
1. Download the image.
2. Right click on the saved image and select Set as desktop background.
[View Little Fox Desktop Backgrounds]
※ Little Fox desktop backgrounds are only available on PC.