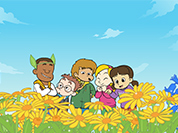 Our April 2020 desktop background features the Little Fox original series Fun at Kids Central (Level 4, 84 Episodes). Are you ready for after-school fun and games? Miss Shelly always has fun things for the kids to do at Kids Central. Follow their after-school activities as they make crafts, play games, cook, and more! Be sure to check out the series and apply the new background as your desktop wallpaper today!
To apply a Little Fox desktop background:
1. Download the image.
2. Right click on the saved image and select Set as desktop background.
[View Little Fox Desktop Backgrounds]
※ Little Fox desktop backgrounds are only available on PC.