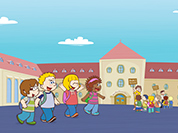 Our March 2020 desktop background features the Little Fox original series South Street School (Level 3, 48 Episodes). Jenna, Daisy, Coby, and Mark are students in Miss Gray's second-grade class at South Street School. Throughout the school year, they learn about friendship and have lots of fun! There's never a dull moment in Miss Gray' sclass. Enjoy the series and apply the new background on your desktop today!
To apply a Little Fox desktop background:
1. Download the image.
2. Right click on the saved image and select Set as desktop background.
[View Little Fox Desktop Backgrounds]
※ Little Fox desktop backgrounds are only available on PC.