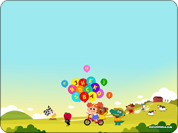 Our November 2019 desktop background features Phonics Songs. Each Phonics Song teaches four new words that start with the same letter. Sing along to these great new educational songs with easy lyrics and fun animations!
To apply as your desktop background:
1. Click download and select size.
2. In the new tab or window, right click and save image.
3. Right click on the saved image and select Set as desktop background.
Little Fox desktop backgrounds are only available on PC.