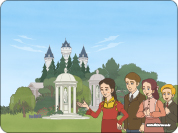 Our October 2019 desktop background features The Enchanted Castle (Level 5, 24 Chapters). An adaptation of the classic novel by Edith Nesbit, four children have surprising adventures during a holiday from school when they discover a magic castle and a ring that makes people invisible. Enjoy this beloved story of magic and adventure and apply our The Enchanted Castle background as your desktop wallpaper today!
To apply as your desktop background:
1. Click download and select size.
2. In the new tab or window, right click and save image.
3. Right click on the saved image and select Set as desktop background.
Little Fox desktop backgrounds are only available on PC.