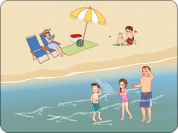 Our July 2019 desktop background/calendar features the Little Fox original series The Carter Family (Level 3). With Dad, Mom, Emmy, Harry, Oliver, and Aunt Judy, every day is an adventure with plenty of fun. If you haven't met the Carters yet, check them out today and apply our The Carter Family background as your desktop wallpaper today!
To apply as your desktop background:
1. Click download and select size.
2. In the new tab or window, right click and save image.
3. Right click on the saved image and select Set as desktop background.
Little Fox desktop backgrounds are only available on PC.