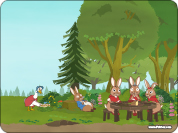 Our March 2019 desktop background/calendar features the level 2 series The Workd of Peter Rabbit and Friends. Adapted from the classic illustrated children's books by English Beatrix Potter, this series follows the adventures of naughty Peter Rabbit and his animal friends. Be sure to check out the adventures and Peter Rabbit and his friends and apply our The World of Peter Rabbit and Friends background as your desktop wallpaper today!
To apply as your desktop background:
1. Click download and select size.
2. In the new tab or window, right click and save image.
3. Right click on the saved image and select Set as desktop background.
Little Fox desktop backgrounds are only available on PC.