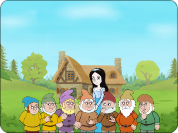 Our February 2019 desktop background/calendar features the level 3 series Snow White and the Seven Dwarfs. The evil queen is determined to get rid of Snow White so that the queen can be the most beautiful woman in the land. It seems as if the queen's plot will succeed until Snow White finds some new friends—seven loyal dwarfs. Will Snow White live happily ever after? Enjoy a new version of this well-known fairy tale and apply our Snow White and the Seven Dwarfs background as your desktop background today!
To apply as your desktop background:
1. Click download and select size.
2. In the new tab or window, right click and save image.
3. Right click on the saved image and select Set as desktop background.
Little Fox desktop backgrounds are only available on PC.