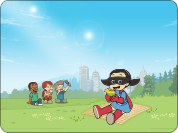 Our August 2019 desktop background/calendar features the Little Fox original series Rocket Girl (Level 4, 108 Episodes). Roxy seems like a regular eight-year-old girl. But when aliens invade or an evil villain robs a bank, Roxy becomes Rocket Girl—Metro City's number one superhero and the star of our popular series. Be sure to check out this action-packed series and apply our Rocket Girl background as your desktop wallpaper today!
To apply as your desktop background:
1. Click download and select size.
2. In the new tab or window, right click and save image.
3. Right click on the saved image and select Set as desktop background.
Little Fox desktop backgrounds are only available on PC.