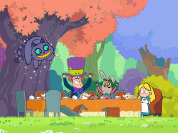 Our May 2021 desktop background features Alice's Adventures in Wonderland (Level 5, 24 Episodes), an adaptation of the classic children's novel by Lewis Carroll. On a golden summer afternoon, Alice goes on an unexpected adventure when she follows the White Rabbit down a rabbit hole. What strange things will she find on her fantastic journey into Wonderland? Be sure to check out the series and apply the new background as your desktop wallpaper today!
To apply a Little Fox desktop background:
1. Download the image.
2. Right click on the saved image and select Set as desktop background.
[View Little Fox Desktop Backgrounds]
※ Little Fox desktop backgrounds are only available on PC.