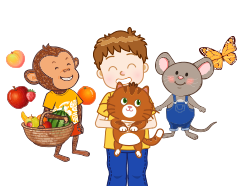 From Friday, January 8 to Friday, February 2, we will be releasing upgraded versions of five Level 1 single stories according to the following schedule:
Greedy Monkey - Friday, January 8
Learn and practice the names of fruits with a greedy monkey.
Where Is Fluffy?* - Friday, January 15
Help a boy find his cat and learn and practice words for furniture around the house.
Balloons - Friday, January 22
Can you count the balloons? Practice numbers one through ten with the cute balloons!
I See - Friday, January 29
What does the mouse see in the yard? Learn and practice outdoor words with a cute mouse.
Who Is Working? - Friday, February 5
What do you want to be when you grow up? Learn about people's jobs and find out who is working.
These stories have been newly animated to meet our current standards of quality. The current versions of these stories will be available on our website until the above listed dates.
* This story will be published with the new title "Where Is Kitty?"